Dr. Kelli Albritton
Dentist
Dr. Albritton was born and raised in Tallahassee, Florida. She attended the University of Florida and received her undergraduate degree in Microbiology and Cell Science. Following completion of her undergraduate degree, Dr. Albritton attended the University of Alabama School of Dentistry and earned her doctorate in dental medicine. Prior to her current practice in Alabaster, Alabama, Dr. Albritton worked in public health in Tuscaloosa, Alabama, where she spent much of her time treating patients in underserved areas in both a clinic setting and mobile dental unit.
In 2010, she and Dr. Ardovino opened Albritton and Ardovino Dentistry. Dr. Albritton has studied under Drs. Pete Dawson, John Cranham and Glenn DuPont at the Dawson Academy of Advanced Dental Study and earned her Fellowship from the Dawson Academy in 2016. During this extensive curriculum she was trained in TMJ disorders, muscular pain associated with unbalanced bites, and worn dentitions. She continues to study in the areas of comprehensive dentistry with a focus on establishing harmony from the Tempromandibular Joint (TMJ), muscles, and teeth as a system.
Dr. Albritton is a member of the Academy of General Dentistry, American Academy of Facial Esthetics, American Academy of Dental Sleep Medicine, is a Dawson Academy Alumni Scholar and is a member of a Pankey Academy study club focused on occlusal splint therapy.
She is married to her husband, Michael, an Andalusia, Alabama native. They have beautiful twin daughters, Avery and Clara, who were born in 2014. She enjoys exercising, reading, cooking with her husband, spending time with her family and enjoying local restaurants.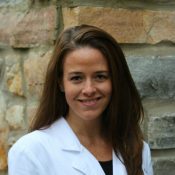 Dr. Ardovino, a resident of Birmingham Alabama, is pleased to be able to serve the community in which she was raised. Dr. Ardovino received her Doctorate of Dental Medicine degree from the University of Alabama School of Dentistry. Furthering her studies she completed a general practice residency, receiving advanced training at the University of Alabama at Birmingham Hospital. During her residency she was trained in implants and advanced treatment planning with a focus on medically compromised patients.
Dr. Ardovino is committed to continuing her education through numerous advanced dental educational programs.  She is a Diplomate of the American Academy of Dental Sleep Medicine.  A passion of Dr. Ardovino's is helping others obtain a better quality of life by treating their sleep apnea.  Many patients cannot tolerate CPAP and she is able to help them through oral appliance therapy.
Dr. Ardovino also completed her Fellowship at the Dawson Institute for Advanced Dental Studies where she was trained in disorders of the TMJ, worn dentitions, and unbalanced bites.  She continues this training with her involvement in study clubs in the southeast.
Outside of work, Dr. Ardovino enjoys spending time with her family and friends. She enjoys biking, tennis, working out and loves to travel when the opportunity arises.
Dr. Ardovino is a member of The American Academy of General Dentistry, The American Academy of Dental Sleep Medicine, The American Board of Dental Sleep Medicine, and Dawson Academy Alumni.